Name: Toyota Tundra Full Width Front Bumper with Hoop

Feature
Fits 2007-2013 Toyota Tundra Models
Bumper weight: about 115 lbs
Audacious, angular off-road design with hoop
Protects vehicles from on & off-road debris
Delicate hollowed-out honeycomb design in both sides
Includes a skid plate that provides under-engine protection
Comes with a 12000-pound capacity winch plate
4 x18w LED spotlights included
Not Compatible with Factory Sensors
Heavy-duty steel construction: 11-gauge(1/8 inch) plate for the bumper main body, 10-gauge(9/64 inch) steel plate for the winch plate
High strength D-Ring mounts welded both inside and out with 4.75-ton capacity. D-rings not included
Two-stage Finish: Textured black powder-coated finish and Premium E-coating process for  corrosion protection under normal use
Easy bolt-on installation
Package Included
1 × Front Bumper Assembly
1 × Structure Mounting Bracket(Winch Plate)
1 × License Mounting Bracket
4 × LED Spotlights
1 × Solid Skid Plate
1 × Mounting Hardware Kit
1 × Installation Instruction
The dimension of this Tundra Front Bumper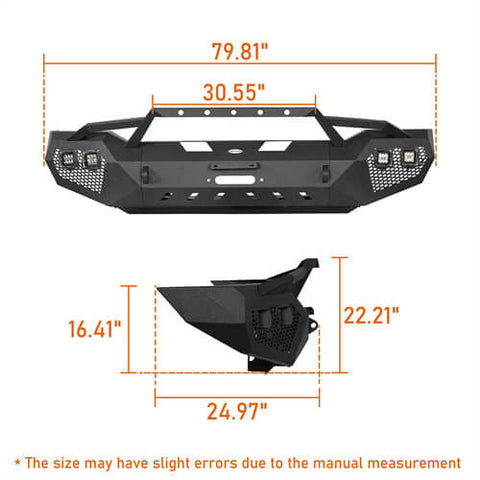 Aggressive Front Armor. Prepare for a fearless and fierce off-road experience by installing the tundra Front Bumper with Top Hoop on your Tundra. With its full-width bumper and a high-strength skid plate, this front shield ensures that your off-road adventures will be exciting and safe. Additionally, the ruggedly aggressive top hoop reinforces your front protection, while enhancing your truck's distinctively tough off-road appeal.

Heavy-Duty Build Quality. This tundra front bumper starts out as a sheet of high-quality plate steel before being machine-formed to exact specifications. This assembly is then fully welded, incorporating CNC-cut internal reinforcements. This process ensures you get an assembly that¡¯s extremely durable yet weighs less than a number of aftermarket bumpers. Similarly, all light mounting ports and accents are laser-cut for a consistent look. Finally, this tundra front bumper is finished in a tough textured black powder coating for superior corrosion protection and bold looks.

No-Drilling Installation. This tundra front bumper reuses the stock hardware of your truck and can be fitted directly onto the factory mounting points. First, install the winch plate onto the car frame. Second, assemble the related components to be a bumper. Third, place the bumper onto the winch plate and adjust the position of the bumper. At last, tighten up all the bolts. You will need only basic hand tools like sockets and ratchet to accomplish the installation in approximately 2 hours.