Home
Flat Tube Fender Flares(07-18 Jeep Wrangler JK) - Rodeo Trail®
Name: Jeep Wrangler JK Flat Tube Fender Flares
Feature
Front & Rear Fender Flares

Fits 2007-2018 Jeep Wrangler JK Models
Weight: About 47 lbs
Made from Heavy Duty Stainless Steel
Provides Additional Tire Coverage
Increases Tire Clearance
Protects Your Jeep from Mud, Debris, Collisions, and Other Trail Hazards
Premium E-Coating Process for  Corrosion Protection Under Normal Use
Drilling Needed. There is no drilling needed for the front fender flares but it is needed for the rear fender flares to get the screw inserts set. It is quite easy, With the help of the supplied detailed instruction, the procedure is demonstrated step by step to help you finish the installation.
Package Included
1 x Jeep JK Flat Tube Fender Flares(Front & Rear Included)
Mounting Hardware
The Thickness of the Steel
It is manufactured from 5/32" mild steel plating.
The Dimension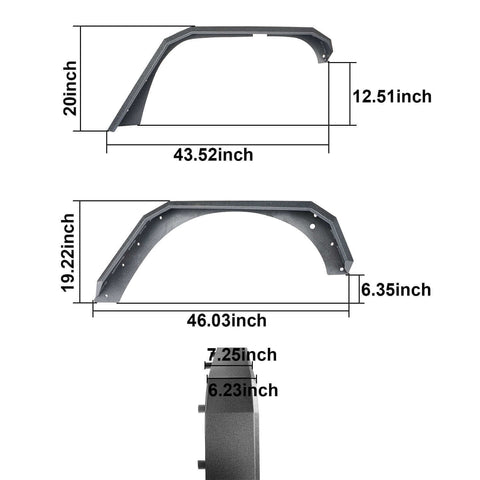 Drilling on the Rear Fender Flares:
Two holes on rear fenders can be used as-is. It will need the factory holes drilled out bigger to receive the supplied jack nuts to complete the installation. We did a nice job reusing the factory holes which aligns the fender to exactly where the hole needs to be drilled.?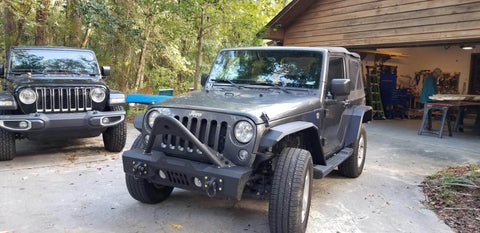 (Picture from our Customer)